Mysore Karantaka Bus 35 Seater
[ninja_form id=9]
Mysore Karantaka Bus 35 Seater/Bus A/c Or Non A/c / Mysore Hire Or Rent Bus Mysore / Outstation Bus From Mysore /
12Seater / 13Seater 14Seater /15Seater / 16Seater /18Seater / 19Seater / 20Seater / 21Seater / 25Seater / 30 Seater / 33Seater Bus /
Bus From Mysore / Bus Rental Near Me / Mysore is becoming a place to choose upper-class tourists and the elite.
Mysore Karantaka Bus 35 Seater
| | | |
| --- | --- | --- |
| 35+1 Vehicle For Rent In Bangalore | Non A/c | A/c |
| 4 Hrs 40 Kms | No | NO |
| 8 Hrs 80 Kms | 8000 | 9500 |
| 12 Hrs 100 Kms | 10500 | 11500 |
| 15 Hrs 100 Kms | 12500 | 13400 |
| Outstation / kms | 38 | 40 |
| Driver Bata | 700 | 700 |
| After Hrs Driver Bata | 700 | 700 |
| Extra Per Km | 38 | 40 |
| Extra Per Hours | 450 | 550 |
Mysore Karantaka Bus 35 Seater – Cool Buses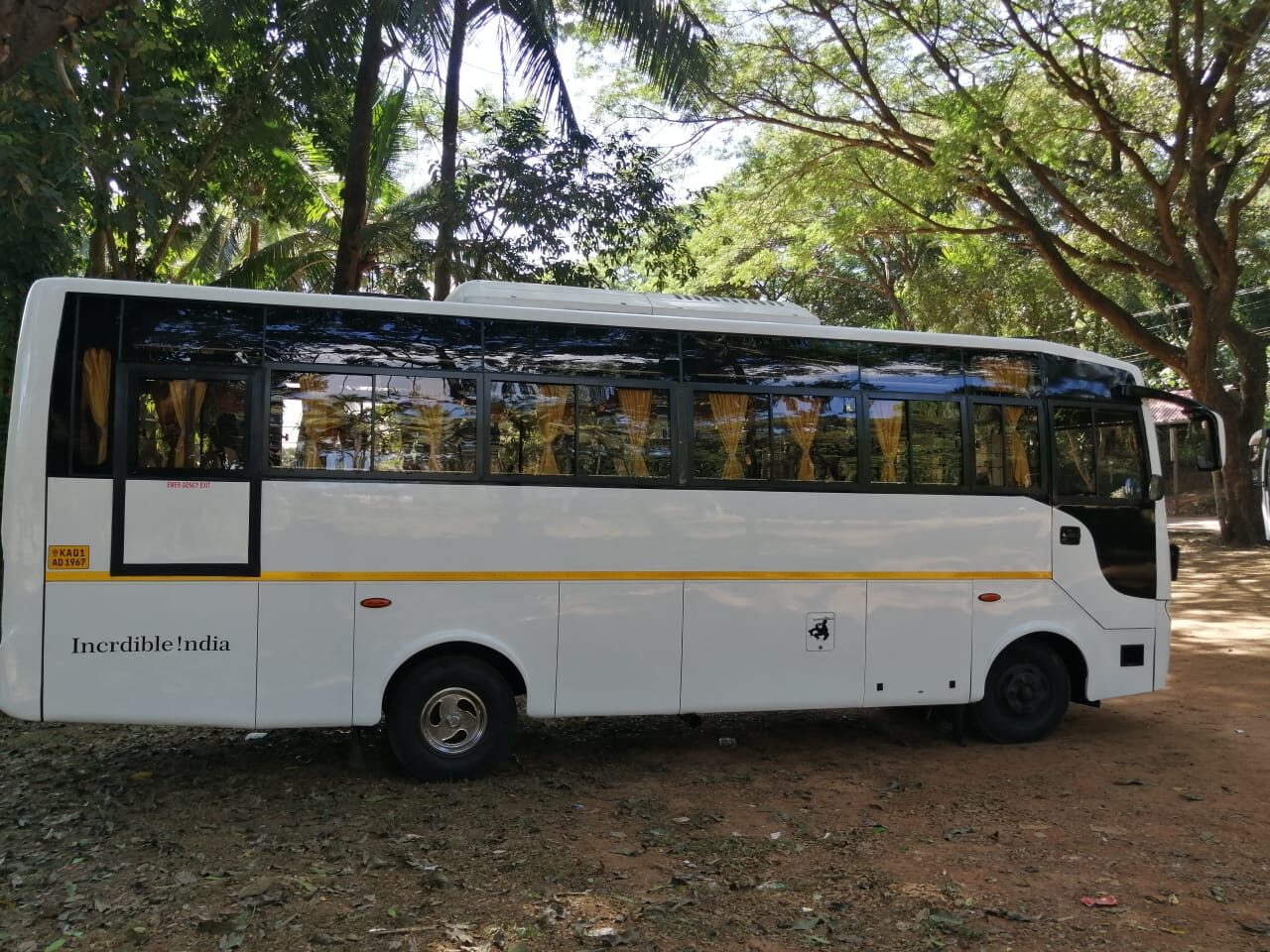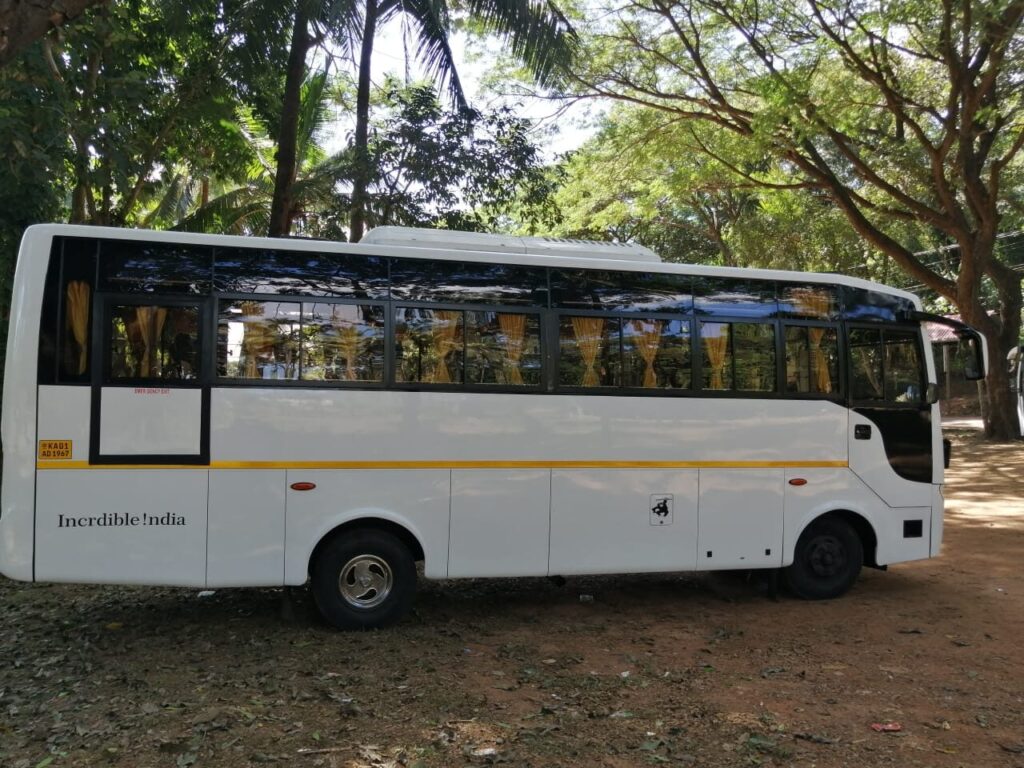 1) Outstation Minimum 300km Per Day.
2) Extra Bata Should Be given After 10 Pm . Onwards.
3) All Taxes / Toll & Parking Fees/ Entrance Fee Extra should Be Given By The Party.
4) Settlement Of Amount To Be Made With Driver Immediately After The Trip.
5) About Ac Duty (Hill Station Ac Will Not Be Working /when vehicle is running AC will be used).
6) Day Means Calendar Day i.e 6 Am To 10 Pm.
7) Starting & Closing Kms & Timing From Our Office To Our Office Only.
READ MORE .
https://jollyridestravels.com/terms-and-conditions
JR Travels outstation cabs in Mysore has been a force in taxi industry in Mysore over 10 years. We have always driven innovation and are continually striving to create a better industry.
Our goal is always customer satisfaction and we will always go the extra mile to support both our drivers and our passengers. Mysore Karantaka Bus 35 Seater – Cool Buses
In JR Travels outstation Bus in Mysore , we care about our drivers and our passengers. If you are travelling in one of our direct branded cabs or our authorized agency cabs then you are assured that they will be modern. Mysore Karantaka Bus 35 Seater – Cool Buses
Our drivers are trained to ensure you receive the best service possible. Mysore Karantaka Bus 35 Seater – Cool Buses
Reliability
---
24 hrs outstation cab services in Mysore .
Safest city & outstation vehicles.
Outstation cabs at affordable prices.
Why Need To Hire Or Rent Bus in JR Travels? Mysore Karantaka Bus 35 Seater
All the Bus listed for rent are well maintained with pushback or recliner seats, are safety complaint and are operated by skilled drivers. Mysore Karantaka Bus 35 Seater – Cool Buses
Besides, the vehicles may also be equipped with other amenities like charging points, TV, music system, blankets etc that ensure a comfortable travel experience at all times. Mysore Karantaka Bus 35 Seater – Cool Buses
So, book AC or Non-AC Bus that fits your needs! Mysore Karantaka Bus 35 Seater – Cool Buses
Quality
---
The most well maintained outstation cabs.
Comfort and convenience.
Well experienced cab drivers.
U CAN Hire Or Rent Bus

in JR Travels?ALL OVER Mysore
Jr Travels are the best, affordable and comfortable travel service provider in Mysore , India. Our main motto is customer satisfaction which helping to run our business successful for past 10+ years.
Our main office is in Laggere And Rajajinagar !Mysore Karantaka Bus 35 Seater – Cool Buses
Katthi Prakash
2023-07-14
Nice service sir🙏
Mahadeva Swamy
2023-07-04
Good services thanks u
Babulal Dewasi
2023-07-01
Good service sir🙏🏻
Venkatesh Venki
2023-06-30
Good service 👍
Venkatesh Dh Venki
2023-06-29
Give a nice service
Thank you jeevan sir 😊 good service and good vehicle 👍👍👍👍
Chandrashekar Sc
2023-06-23
Good service
10 Seater Tempo Traveller 11 Seater Tempo Traveller 12 Seater Tempo Traveller 13 Seater Tempo Traveller 14 Seater Tempo Traveller 15 Seater Mini Bus 16 seater Mini Bus 17 seater Mini Bus 18 seater Mini Bus 19 seater Mini Bus 20 Seater Mini Bus 21 Seater Mini Bus 22 Seater Mini Bus 23 Seater Mini Bus 24 Seater Mini Bus 25 Seater Mini Bus 28 seater Buses 29 seater Buses 30 Seater Buses 33 Seater Buses 40 Seater Bus Hire 45 Seater Bus Hire 50 Seater Rental Local Tempo Traveller Mini Bus Travels
Bus Rates in

Mysore

– Affordable Rates and Premium Services
The Bus per km price offered by Jr Travels is quite economical. In comparison to booking a taxi or taking a car rental service in Mysore , a Bus offers additional leg-space and is also much cheaper per head.
Our customer-friendly billing has no hidden charges. With 24×7 support, customizable tour programs and chauffeur driven cabs; Jr Travels is the right choice when you need a
A/c Bus Mysore : Mysore Karantaka Bus 35 Seater
The best choice when few friends decide to go for a trip, people ranging from 9 to 15 is Bus instead of 2 cars you save the fuel and work out best and affordable option.
This way will allow any person to be relaxed and enjoy the journey with your colleagues or friends and with family members, worry not about your packages, luxury and baggage space and so on.
Jr Travels offers A/c Bus Rental in Mysore, this is the easy way to accommodate a small group of people and small size families in comparison to coaches, A/c Bus will be easy to navigate through the tough Mysore city roads and traffics.
A/c Bus can accommodate up to people and all our vehicles are with DVD players making your journey enjoying with songs and hymns. Mysore Karantaka Bus 35 Seater – Cool Buses
Simply check our website @ https://jollyridestravels.com where you can Search, Select the vehicles,Mysore Karantaka Bus 35 Seater – Cool Buses
Provide few Details and Book an A/c Tempo Traveller . Mysore Karantaka Bus 35 Seater – Cool Buses
Once completion you will receive a confirmation from us on the same via email or we will call you and keep you posted on the pickup time and place as per your booking status.
A/c Bus will be sent to you at the earliest by the manager at least 30 mins prior to pick-up time. A/c Bus in Mysore is widely famous on Mysore rugged roads and a very good choice for nearby hill stations and any mountain destinations.
All our vehicles are with Comfortable push back seats with ample leg space and moving space. Jr Travels offers you luxury and non-luxury tempo travelers in A/C and Non A/C modes. Mysore Karantaka Bus 35 Seater – Cool Buses
Why Choose a Bus –Mysore Karantaka Bus 35 Seater
Bus

& Packages Tours Service . Ever Sine Its Commencement JR Travels In Mysore Had Turuned Out To Be One Of The Most Innovative

Bus

Service Providers In & Around Bangalore & Mysore
Instant & Quick Booking
No Hidden Charges
24 Hours Roadside Assistance
Kilometer Reading Starts & Ends From Garage To Garage
We Offering All Vehicles For 1 Day Trips Or 8 hours 80 Km With Driver
Our Professional Drivers Will Reach Customers Pick Up Point On Time
Online Booking Facility For Bus Is Available
Gps Tracking System Fitted In Our Vehicles For Security Purpose
Bus Booking in

Mysore

for Local Sightseeing – Explore Bangalore like a Local with Jr Travels
Mysore is blessed with pleasant weather all throughout the year and this makes sightseeing fun. Apart from being an IT hub of India, Mysore is a diverse and vibrant city with much to explore.
There are a multitude of cultural, historical, architectural, artistic and natural attractions that will keep you occupied and entertained such as the Victorian-styled Mysore Palace, the fine Indo-Islamic architecture of Tipu Sultan's Summer Palace,
The well-cut walkways and pristine natural surroundings of Cubbon Park and finally some wildlife at Bannerghatta National .Mysore Karantaka Bus 35 Seater – Cool Buses
Bus Rent in

Mysore

for Outstation Rides – Explore South India in Chauffeur Driven Minibuses
Mysore is uniquely positioned and is close to a number of holiday destinations and weekend getaways. Some of the best destinations in and around Mysore
Mysore, Chikmagalur, Ooty, Chennai, Wayanad, Kodaikanal, Goa and Coorg. So hire a Bus on rent in Bangalore and make the most of your time with friends and family.
Mysore Karantaka Bus 35 Seater
Jr Travels offers a wide range of Bus services to and from Mysore airport at lowest fares. You can choose 9 to 16 seater AC tempo travellers based on your requirement and make your booking online.
We provide door-step service – from airport terminal to your home or vice versa. Enjoy a convenient and safe ride experience with extra leg-space for everyone.
Never worry about delays with Jr Travels on-time pick up and drop services. Mysore Karantaka Bus 35 Seater – Cool Buses
You are in right place to Hire Bus for a group of 10 to 18 people to move around the places in and around Bangalore, Mysore, Tamilnadu, Andhra, Telangana, Kerala.
We JR Travels provide you the best and affordable Bus services for booking a deluxe and non-deluxe, luxury and non-luxury vehicles depends upon your convenience. JR providing fleet management services in Mysore for almost 10+ years.
Our team having solid experience in understanding people's expectations or requirements on their travel needs. JR Travels headquartered in Laggere Bangalore and having multiple branches in south urban areas.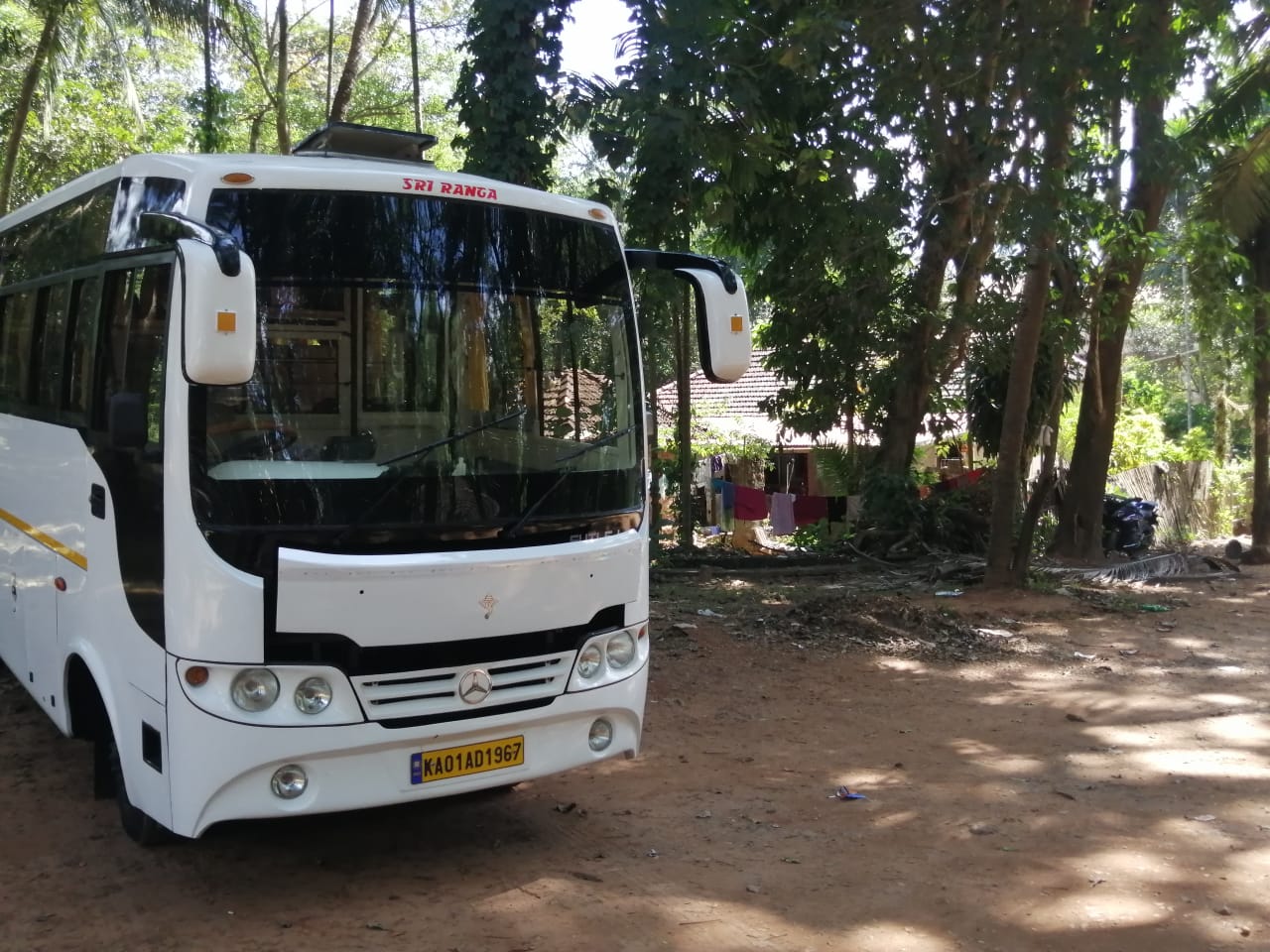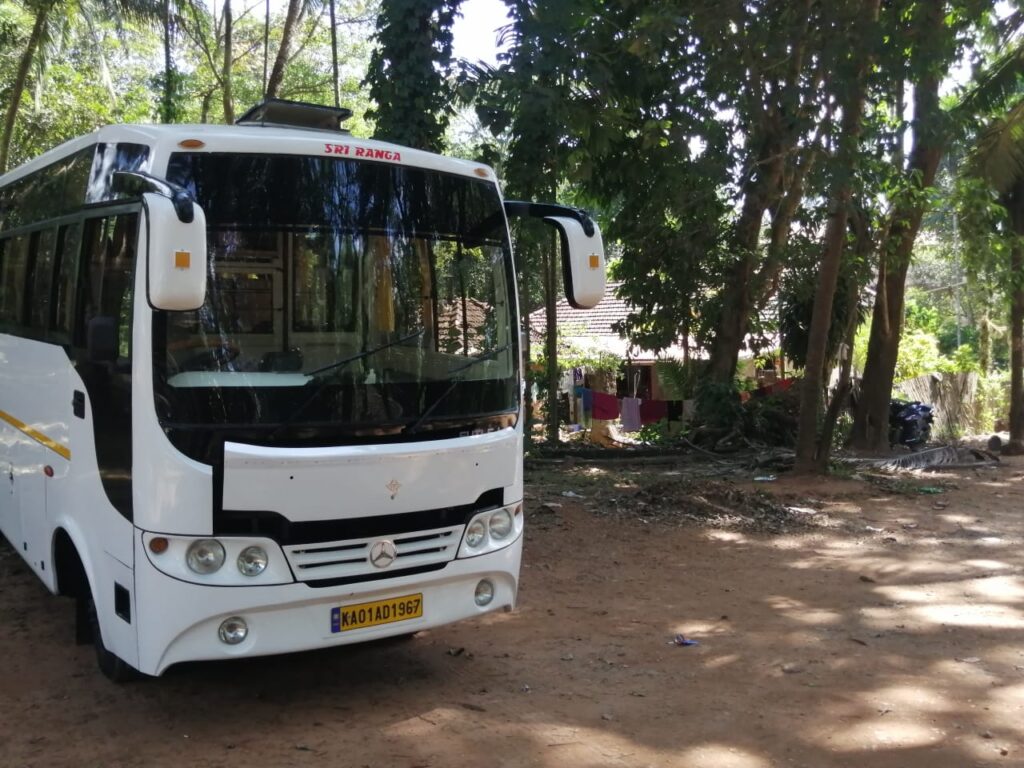 What are the Seating Capacities Tempo Traveller – Upto 14 Seater
Jr Travels with its launch of minibus rental service in Mysore offers 8-seater ttraveller , Mysore 9-seater ttravelelr in Mysore ,10-seater ttraveller, 12-seater t traveller and 14-seater ttraveller under this category.
The small-sized ttravellers are perfectly ideal for small family outings, nostalgic reunions and weekend getaways. No matter where your destination is, we have got the ideal ttraveller to suit your requirements
What are the Seating Capacities Mini Bus – Upto 20 seats
Jr Travels offers 15-seater MiniBus , 16- MiniBus in Mysore and 17-seater MiniBus on rent in Mysore , 18-seater MiniBus on rent in Mysore , 20-seater MiniBus on rent in Mysore under this category.
Choose a medium-sized MiniBus if there is a corporate outing or an excursion to be arranged.Perfectly ideal when traveling with 15+ passengers, the medium sized MiniBus come with plush interiors,
An unmatched variety of AC and non AC vehicles as well as aim to balance comfort and luxury with extremely budget friendly options to choose from.Mysore Karantaka Bus 35 Seater – Cool Buses
What are the Seating Capacities Bus – Upto 50 seat
Under this category, Jr Travels offers 25seater Buses in Mysore , 28seater Buses and 29seater Buses , 30seater Buses , 33seater Buses , 35seater Buses , 40seater Buses, 45seater Buses ,50seater Buses on rent in Mysore .
These Buses are ideal for a large group of people traveling together such as pilgrimage groups or wedding transportation. With extremely comfortable seats, spacious interiors and other premium facilities, smooth travel.
JR TRAVELS
We provide bus/Coach for the various occasion like pilgrim visit, railway station pickup and drop, small family function, group outing, one day outstation trip services confining in mind the various expectation of the customers.
JR TARVELS services are majorly available in India's one of the best tourist attraction places like Mysore (Karnataka state), where you and your family can find some good and memorable trip.
Cancellation Policy
100% of your total amount will be Non-Refundable if you do not notify us about your cancellation 1 day before of your booked trip.
50% of your total amount will be Non-Refundable in case of booked trip cancellation.
[helpie_faq group_id='329'/]